GIS SERVICES AND APPLICATION AREAS
GIS SERVICES
GIS Services assist organizations big or small, corporate or government, multinational conglomerate, or local authority to make decisions based on geographical Information. In any business environment, two things stand out : One, a lot of informationwill be geographically referenced and two, more the information one has, the harder it becomes to manage and interpret. It is a fact that 70% of all informationin circulation possesses a common denomination - Geography! Thus GIS becomes important to the users in Decision making.

GIS has taken on in a big way over the past two decades. Moving from the realm of academic research, the technology was first harnessed to the needs of large, information-hungry organizations such as local authorities, environmental agencies, emergency services and utility providers.

More recently, GIS has taken a leap on the back of the advances in desktop computing to find application in every conceivable area of business activity. And it is here that the logic of GIS is impeccable, given that competitive advantage is ultimately about delivering services the right product or services to the right place at the right time. GIS helps organizations stay continuously ahead of competition.


CTI offers GIS Services to organizations and assist in formulating strategies and provide services in order to ensure that all the GIS information needs are represented in proper perspective and catered to for comprehension coherence with the corporate vision and objectives.

Other applications areas of GIS
The major challenge the world faces today are Overpopulation, Pollution, Deforestation, Natural disaster have a critical geographic dimension. GIS technology can be used to support a wide range of industries and disciplines. These include:
Agriculture

Logistic e.g. for FMCG and similar companies.

Banking, insurance and other financial companies.

Mining

Conservation

Petroleum

Defense and Intelligence

Pipeline.

Electricity and Gas Utilities

Real Estate

Environmental Management

State & Local Government

Central Government

Telecommunications

Forestry

Transportation/ Vehicle management

Health

Election authorities

Water and Wastewater………..to name a few.
Why CTI?
Industry Knowledge
Our highly skilled and qualified professionals are continuously kept abreast of the latest developments in the technology, awing to the ongoing technology transfer agreement and collaboration with our principle partners. This enables us to provide for the state of art information and technical know-how for our prospect / customer based on an ongoing basis.

Our professionals are valuable sources of information for the challenge faced by our customers. This backed up by our Principal partners enables us to understand the problems faced by our customers and provide with appropriate solutions that would help them to succeed.

TECHNOLOGY EXPERTISE
Conversion Tools - AutoCAD map, CAD overlay, Micro station and CAD core.
GIS and Image processing - Arc info. View, Intergraph GIS, Map Info, ERDAS, EASI Pace and mage Analyst.

COMPETENCIES
Scanning (data conversion_ Analogue to digital)

Digital Image Processing

Map Creation and maintenance

GIS analysis (Terrain Analysis, network analysis, raster analysis and other overlay analysis, etc.)
SCANNING 

We offer you the service of a suite of software to convert your paper maps into an electronic form. These tools allow you to process your data so as to improve on the quality of image and hence provide for better visual interpretation.

DIGITAL IMAGE PROCESSING
We, at Computech International Inc (CTI), have the expertise in image analysis tools to provide the user with a full set of image display enhancement and manipulation. Our Software skill set includes the following.
Grey scale analysis

Color manipulation

MSS processing

Geometric processing

Robust contrast enhancement capabilities

Multi byte data comp ability

Arithmetic (Image Math)

Enhancements

Color enhancements

Multi spectral analysis

Classifiers

Post-classification
Map creation and maintenance
The map creation services at CTI offers advanced facilities forming a speedy alternative to conventional map digitization through semiautomatic line following, automatic techniques, automatic cell and symbol placements, queued text replacement and automatic feature.

solutions enable users to enter capture convert, translate and validate diverse types of data irrespective of the source and integrate them into the database. These data management tools also facilities the continuous process of keeping the GIS information up-to-date.

GIS Analysis
Vector Analysis
This creates selective or global topology for spatial analysis from multiple or selective themes. It performs user defined complex spatial queries, buffer zonation, thematic mapping area merging etc.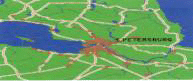 Terrain Analysis
The terrain analysis helps us in analyzing features like contours, faults, ridgelines, drainage, peaks, pits, spot heights etc. The above can be taken as inputs and it can be used to create slope and aspect models.

Network Analysis
Network analysis is a tool for managing network information such as roads, pipelines and waterways network-crucial for planning, design, operation and railways and utilities like electricity and gas, maintenance of networked facilities.
Corridor Analysis showing acceptable route in green and unacceptable routes in red, placed over the original satellite image.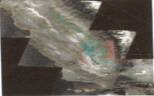 Raster Analysis
Raster analysis provides a variety of tools for raster data analysis like spatial analysis including full featured map algebra, overlay, proximity, analysis, cross surface generation and optimal path determination and statical analysis. It also converts raster to vector data and vice versa and can be used for custom development of complex modeling
Buffer Analysis Hybrid Mapping R to V conversion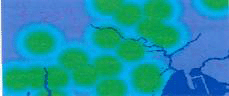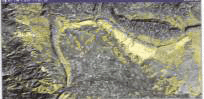 Maps online allows users to effectively archive, index, compress and distribute geo special data effectively by connecting existing database, user can query meta data and preview or display imagery.

We at CTI, are capable of handling the domains of GIS and remote sensing whether it is conversion from analogue to a digital format or handling the satellite data in terms of processing and interpretation or a stand –alone GIS creation.

The team at CTI. is well versed in the current technologies and the upkeep of the latest technology comes easily to us because of our strategic alliance with our overseas partners present in different parts of the world and a well-qualified staff, which absorbs the changes quickly and easily. We feel proud in stating the fact that we have aligned people, technology and excellent management under one proof to get maximum possible benefits saving time and funds.
Turnkey Solutions and Strategic Alliance
CTI has been a pioneer in offering turnkey business solutions to customers on a fixed schedule basis, as part of its total turnkey solutions strategy. Using the turnkey solutions approach, CTI can undertakes total responsibility for the project from the planning, management, design, development, testing and customer training, through implementation and deployment. CTI successfully delivers quality products and services to its customers meeting their unique requirements.

Customer satisfaction
Customer satisfaction, on time service, continuous improvement in product and services are the basic elements that personify CTI. as a corporate entity.

Staying power
Since its foundation CTI has managed its business for growth by practicing the most appropriate financial management. In contrast many of our competitors have come and gone company. Our key business partners also back up this staying power.

TECHNICAL SUPPORT & SERVICES
CTI has a proven track record of extremely efficient customer support. The support resources available include the following:
Customer response under standard company procedures.

Number of workstations used in-house for support and skill enhancement.

Customer support group for dedicated support for H/W and S/W problems.

Dedicated telephone lines and e-mail for logging customer problems and providing Solutions.

Well-established trouble report logging procedures and quick response.